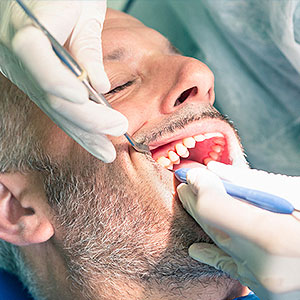 One of the key parts to an effective oral disease prevention plan is practicing daily oral hygiene to remove dental plaque. Both brushing and flossing are necessary for cleaning your teeth of this thin biofilm of bacteria and food particles most responsible for tooth decay and periodontal (gum) disease.
But as important as they are, these two essential hygiene tasks aren't the end-all-be-all for lowering your disease risk. For the best protection, you should also visit your dentist at least twice a year for thorough dental cleanings. That's because plaque you might have missed can turn into something much more difficult to remove: calculus.
Also known as tartar, calculus is hardened deposits of plaque. The term comes from the Latin word meaning "small stone," an apt description of its texture on tooth surfaces. Although not the same as the branch of mathematics that bears the same name, both derive from the same Latin word: Merchants and traders centuries ago used small stones to "calculate" their various transactions.
Over time soft and pliable dental plaque hardens into calculus, in part due to a reaction with saliva. Because of the difficulty of accessing all tooth surfaces, calculus can form even if you have an effective daily hygiene practice.
Once formed, calculus can adhere to teeth so tenaciously, it's impossible to remove it with brushing and flossing. But dentists and hygienists can remove calculus safely with special tools called scalers.
And it should be removed or it will continue to foster bacterial growth. This in turn increases the chances for infections that attack the teeth, gums or underlying bone. Keeping it under control will therefore diminish your risk for developing dental disease.
Although there are other factors like heredity that can affect your disease risk, keeping your mouth clean is the number one thing you can do to protect your teeth and gums. A daily hygiene practice and regular dental visits will help ensure plaque and its calcified form calculus won't be a problem.
If you would like more information on preventive dental care, please contact us or schedule an appointment for a consultation.